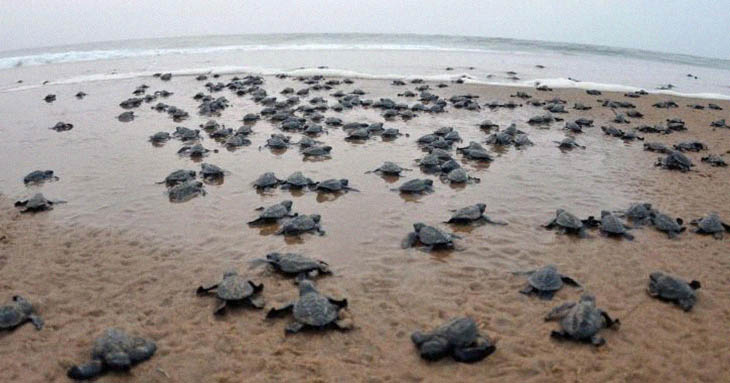 While coronavirus is putting the world into pandemonium, the global outbreak also has had positive effect on nature and the environment.
By the coast of the eastern state Odisha in India, there were over 475,000 Olive Ridley sea turtles see coming ashore to the 6km. beach of Rushikulya to dig nests and lay their eggs. This encounter has become so sparse and unique since the turtle species were officially marked endangered because of the few nesting sites they had left.
Because of all the lockdown restrictions that countries have put in place due to COVID-19, this has given half a million endangered turtles to roam freely without any human disturbance – especially tourists that come to these sites to observe this event – which resulted into a successful mass testing that anyone has seen in years.
According to Down to Earth, the forest service has recorded more than 250,00 turtles taking part in daytime nesting activities in the past week alone.
This event would typically bring in a massive number of tourists eager to see this beautiful event, giving the Forest Department members a run for their money trying to keep everyone at a good distance. Crows and jackals also normally attack these turtles when they come ashore, while poachers successfully rob their eggs to sell and local village markets.
This time around, the coronavirus lockdown prevented such disturbances to happen, allowing 25 forest guards and other researchers to give their complete attention to guarding these mother turtles, the Hindu reported.
At around the same time, another successful mass nesting also took place in Gahirmatha Beach, also located along the Bay of Bengal in Odisha. With these two successful nestings, authorities have estimated that 60,000,000 eggs in total have been laid this year.
Each mother lays about 80 to 100 eggs each, with 45 days for the eggs to hatch. After that incubation period, the little hatchlings emerge from the sand to stumble their way innocently to sea.
This is a stunning reversal of fortune for the Olive Ridley turtles, who were not seen laying eggs in these locations last year.
With the shockingly high number of turtles taking part in the even this year, the Forest Department explained that:
"Every alternate year is either a bad year or a good year. However, in the last two years we have seen a phenomenal increase in nesting numbers. This year we have estimated that at least 4.75 lakh [475,000] turtles came on to nest on Rushikulya beach."
What are your thoughts? Please comment below and share this news!
True Activist / Report a typo