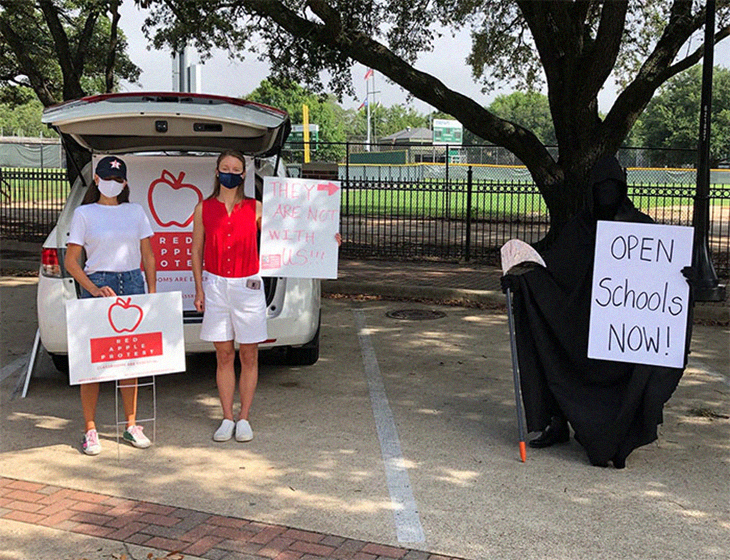 A number of states have ordered their kids to go back to school, and not everyone agrees with their decision. While debates about whether kids, teachers, and school administrators should risk their lives by heading back to school, the federal government has already given the CDCs (Centers for Disease Control and Prevention) school guidelines to follow, should they decide to reopen come fall. But surprisingly, many agree that reopening schools is actually the best decision for their kids, and they're happy that schools are being allowed to open their doors again for the brand new school year.
Despite a number of teachers and parents sharing their fears about allowing schools to open, some parents are more than ready to get their kids out of the house and into their classrooms. In fact, some moms that were unhappy to hear that Houston's ISD (Independent School District) decided to move classes online for the start of the schoolyear at least, they  decided to have their own protest. They got together at the Red Apple to share their opinions, but little did they know that they wouldn't be the only ones trying to get their point across.
In a dark yet comedic twist of fate, these moms would find themselves in the company of two grim reapers holding up signs that read, "Open Schools NOW!" which of course was meant in a completely sarcastic way. Photos were taken and shared on Twitter by @AstroSpell173 who wrote, "Grim Reapers protesting with Karens to open schools in Houston" complete with a skull emoji. And of course, the post ended up going viral. It eventually got over 79K retweets and 312 likes since it was first posted, with most social media users praising the grim reapers for their dedication, especially wearing those long and obviously hot reaper costumes in the Texas summer heat.
https://twitter.com/AstroSpell713/status/1288233682231336961
With the Houston ISD choosing to have children return to school virtually for now, Lydia Zatopek of the Harris County Department of Education shared with ABC News, "Let's try this out. Hopefully, this isn't going to last very long. If things improve, there will be some opportunities for back to face-to-face learning. We'll see how it goes."
But surprisingly, some parents from West University Elementary School were very unhappy with the ISDs decision. One mom, Christine Flood, "Children thrive from social interaction, learning from their peers, competing with their peers, comparing themselves to their peers, putting on clothes and presenting themselves, and learning manners each day inside the classroom."
Although these parents understand the seriousness of Covid-19, they also believe that schools shouldn't take a "one size fits all" approach to schooling or to all the kids. This is why they decided to come together for the Red Apple protests at the West University Elementary School on Mondays at 8 a.m. "until their request is taken seriously or HISD reverses its decision," shared ABC News.
Of course, twitter users couldn't wait to share their thoughts about the whole thing. While some were as serious as a heart attack, a number of them were downright hilarious. Some commented that these moms just didn't want to have their kids around anymore.
Others condemned the parents for their behavior, wondering why they would risk their children's health, as well as endanger their entire household because of this back-to-school decision too.
Others made fun of the fact that the grim reapers had more game than the "Karens." And if you look back at the photos again, you'll see that they aren't wrong.
On the other hand, some thought maybe these moms were just going old school by allowing their kids to just get sick and just eventually get over it. Of course the difference is chicken pox isn't remotely life threatening, unlike Covid-19, that has already killed over 700,000 people worldwide.
Meanwhile, others go on to state the obvious, that a potential life-threatening virus isn't something to joke about.
If you'd like to see the original post and the rest of the comments, click here.
What are your thoughts? Please comment below and share this news!
True Activist / Report a typo