Believe it or not, YouTube can be used for more than just watching cat videos. In fact, a mother and her four kids, all whom escaped domestic violence and decided to 'start over', utilized the popular video platform to build a house from scratch.
BuzzFeed relays thatArkansas resident Cara Brookins eventually said "enough" after walking away from two abusive marriages and evading a stalker with a mental illness. By the time she and her kids decided to move on, everyone needed a boost in self-confidence.
"My kids and I needed something," Cara explained. "I felt ashamed and I was worried that they had no self-esteem and no confidence."
A conundrum was that the single mother couldn't afford a house of her own. It's for this reason that she decided to build one, having zero experience and zero knowledge about the process. While most people would have assumed the goal was impossible, Cara knew the tools were just within reach.
After finding a plot of land that had a foundation for a house (the previous structure had been destroyed by a tornado), Cara took out a $150,000 loan for materials. She then watched plenty of YouTube tutorials and enlisted her kids into helping. Remembering the moment in 2007 when she contemplated purchasing the land and building a house, Cara recalled:
"It made me think, 'what if we bought some 2'x4's and sheetrock and put that together? What would our dream house be? Would we want to build it?"
Together, the family poured a foundation, built a frame for the house, and eventually constructed a 3,500 square-foot abode. The five-bedroom house includes a three-car garage, a huge shop, a two-story treehouse, an appealing kitchen, and a gorgeous reading nook and library. The family calls the home the 'Inkwell Manor', and has been living there for the past eight years.
The mother of four relayed that building the house was a life-changing project for herself and the kids, as now everyone feels empowered to conquer the 'impossible'. In her own words, she says the kids now "dive into everything. There's nothing you could suggest to them that they could not do. it's an incredible thing," she said.
A grand takeaway from the story is that if one can conjure a brilliant endeavor, more likely they can create it. What's important is that they believe in themselves and use the free resources they readily have access to, such as YouTube.
If you're interested in learning more about Cara Brookins' story, her book 'Rise' will be available to purchase through Amazon on January 24th.
Meet Cara Brookins and her kids Roman, Jada, Hope, and Drew.
After escaping two abusive marriages, Cara decided to 'start over' with her family.
The problem was, she didn't have enough money to buy a house.
So, she decided to build one – with the help of her kids!
After finding a suitable plot of land, she took out a $150,000 loan for materials.
Cara and the kids then watched hundreds of YouTube tutorial videos.
They learned how to pour a foundation…
How to build a frame…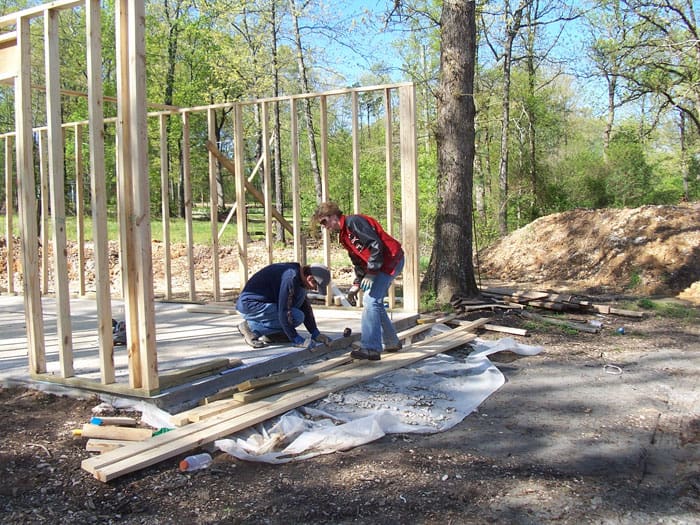 And most importantly, how to work together.
It's been eight years since the 'Inkwell Manor' was built…
And the family couldn't be happier!
What are your thoughts? Please comment below and share this news!
---
This article (Mother And Four Kids Build House Together After Watching YouTube Tutorials) is free and open source. You have permission to republish this article under a Creative Commons license with attribution to the author and TrueActivist.com