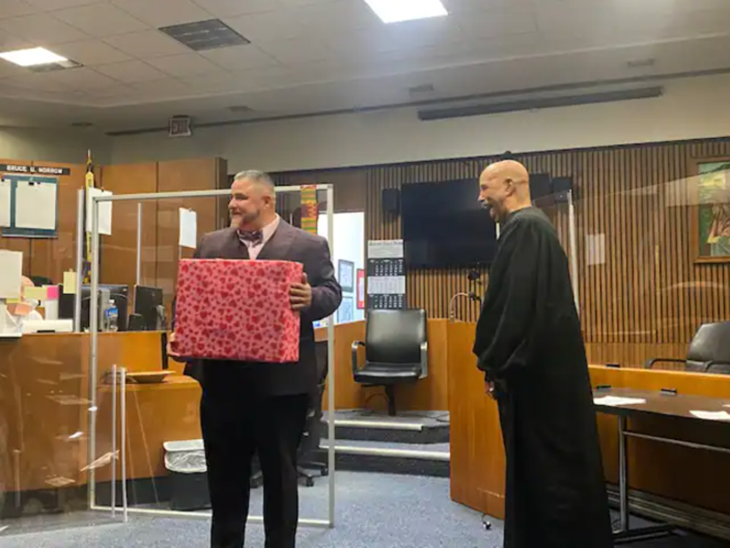 As the saying goes, never judge a book by its cover. Yet when Judge Bruce Morrow saw 27-year old high school dropout Edward Martell in his courtroom, with his multiple visits in front of a judge, no one could have blamed the judge for actually convicting him.
The year was 2005 when Martell had been released on bail for a former arrest, when he was arrested once more for manufacturing and selling crack cocaine in a drug sting operation in Dearborn Heights, MI. It was just a few days before his mom's birthday and for some reason, whether it was just the judge's intuition or his lucky stars, Martell got probation instead of having to spend decades sitting behind bars.
Rather than give Martell a harsh sentencing on the 20-year drug conviction that he deserved, the judge decided to give him a second chance. Martell had a number of former arrests on his records, and considering how many times he had to stand in front of a judge, no one would have thought that he was worth saving, but Judge Borrow wasn't just any judge.
During that last visit in court, Borrow not only gave the young man probation instead of a jail sentence, he also challenged him to make better decisions in his life. The judge told Martell that the next time he made it into his courtroom, he expected him to have made something of himself and his life.
Martell shared with CNN, "I noticed right away Morrow was a unique guy. I walked in his courtroom and I'm watching him and I realize he treats the defendants like real people. I was like 'Woah, this judge is different'."
He then said, "I will never forget what he told me. He said 'Mr. Martell, you don't have to be out here selling drugs. You have greatness within you. I challenge you, be the CEO of a Fortune 500 company." And he also shared with Deadline Detroit, "And I love a challenge."
Judge Morrow also shared in an interview with The Washington Post, "It was kind of in jest, but he understood I believed he could be anything he wanted to be."
Who could have known that 16 years after that day, Martell not only made something of himself, but when he found himself standing in front of the same judge, this time, it was because he was being sworn in as an attorney rather than being given a jail sentencing. In those sixteen years, Martell managed to truly make something of himself and was sworn in as an attorney after passing the Michigan State Bar.
According to Martell, the road to get to where he is now wasn't exactly an easy one. In fact, as he was attempting to get his GED, his own guidance counselors actually discouraged him from pursuing a career in law. But Martell was determined to prove everyone wrong and in the process, prove Judge Morrow right.
After getting his associate's degree, Martell managed to get scholarships for his school, both his undergraduate studies as well as for his law schooling. Then, to further his career, he clerked for the District of Columbia's Federal Public Defender's office. Afterwards, he was hired as a researcher and writer by Perkins Law Group.
By the time Martell took the bar exam, he had tons of people cheering him on, including Judge Morrow. Apparently, the two had kept in touch over the years, and because of his support and second chance, Martell managed to turn his life completely around.
In fact, Morrow told CNN that he made sure Martell knew that he was there for him. He shared, "I told Ed, my door is always open for you, here's my number, I want to know what you're doing, I want you to keep me in your life. I gave Ed an opportunity. Everybody deserves to be treated with a great sense of humanity and importance."
Eventually, after years of studying and work, and with help from his law firm mentors, Martell gave an over 1,200-page application explaining specific details as to how he managed to make a whole new life for himself, and why he should be accepted as a lawyer.
Martell went on to say, "The main thing they look for is candor. I let them know I am remorseful – that I'm downright embarrassed. I am the same person, but I don't think like that anymore. I've evolved."
Amazingly, his approval only took them 15 minutes to decide, and after many years of hard work and commitment, he moved from researcher and writer to practicing attorney for the same Perkins Group.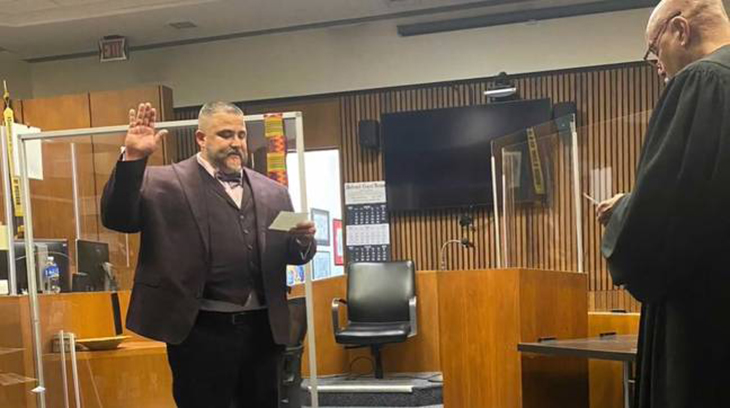 Judge Morrow shared with Deadline Detroit, "It's a crazy cliché, but some defendants, that's what they need. If you believe like I believe, that there but for the grace of God go you and me… It took some intelligence to get in and out of the kind of trouble he got into. I told him, 'You could be my son. Let's see how far you can go.' And man, he hasn't finished yet."
Morrow also shared with The Washington Post on the day of his swearing in, "Ed has been in that courtroom at least 50 times in the past 15 years. And he came in that day with the biggest smile on his face. He was just ready to pop."
Martell also said, "Any other judge would have flushed me." But what Morrow saw was a young man with possibility, and a chance to make his life better. In fact, even said, "I can imagine Ed – being a Brown man, coming from an economically depressed environment, having been chased by police and put in handcuffs – never thinking this is where the love could come from."
And because of the love of one judge, and the fact that he doesn't actually judge anyone right off the bat, a man's life was changed forever, and a judge was seen as more than just a man with a gavel.
What are your thoughts? Please comment below and share this news!
True Activist / Report a typo