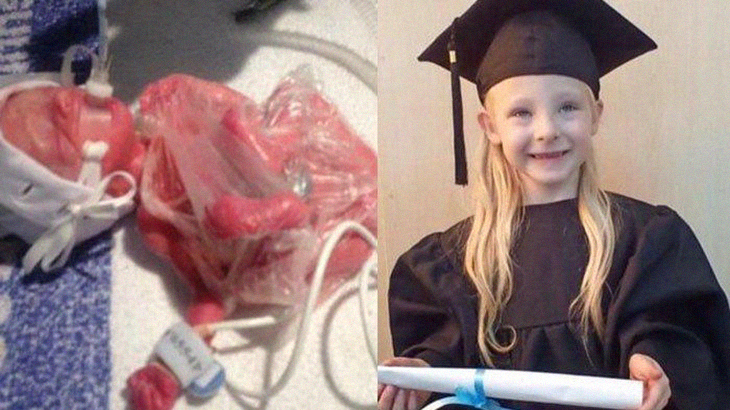 A little girl made worldwide news after surviving being born three months prematurely. When she was born, she weighed just 1lb 5oz, which is around the same weight as half a bag of sugar. At the time of her birth, her parents didn't know whether she was going to survive or not, being placed inside a sandwich bag to keep her alive. But incredibly, little Darcey Clegg defied all odds and is now about to start school.
Darcey was born on September 12, 2016 when her mom, Gill, was just 28 weeks pregnant. Her mom underwent an emergency C-section after an ultra-scan showed that Darcey was not getting enough blood because of an abnormality in her mother's placenta. After her birth, she was kept in the neonatal unit of the Royal Oldham Hospital in Greater Manchester in the United Kingdom for a staggering 64 days. But despite the odds, baby Darcey fought hard and long for her life, finally making it home on December 30 that same year.
Now four years old, little Darcey is about to start school, and her mom – who is now 50 – is more excited than ever. Gill shared, "Darcey is amazing. She was so tiny in that little sandwich bag, I didn't know if she would make it."
Gill and Mark explained that it was quite a surprise when they found out that they were pregnant again. Gill said, "It was a bit of a shock but a lovely one."
The couple have three children that are much older than Darcey as well. Karl, whose 30, Olivia who is 20, and Jack who is 18. And for all of them, Darcey is their little Christmas miracle. Gill explained, "She was the best present."
Like many other premature babies, Darcey's milestones were all a bit delayed. Gill shared, "She started walking a bit late, but it was an amazing moment. She is a dream." And despite her too early start in life, she has managed to defeat all the odds and remains to be a healthy, happy little girl.
Darcey has since graduated from nursery and is now about to enter primary school. "It's so emotional to see her start school. We've got her uniform and everything ready to go," said Gill.

"I still remember looking at her tiny body in an incubator. She defied the odds." she added.
Darcey also shared that she can't wait until school begins, saying, "I can't wait to go and play with lots of other kids."
What are your thoughts? Please comment below and share this news!
True Activist / Report a typo