In an incredible move by two life partners, Marty Weber and Jeff Poissant, they decided to donate 36 acres of land for a wonderful cause. The two men, whom had met over 30 years before in the late 1980s, both served in the United States Army and happened to be stationed in Germany. They eventually went into business together, starting YoBuck Landscaping, and were business and life partners for over least thirty years.
Weber shared with publication nj.com, "I didn't even know I was attracted to men. I met him, and we fell in instant love. We did. He knew, but I didn't."
Back in his younger years, Weber had a child when he was just 17 and now, he even has a granddaughter that's already in college.
He continued, "We were two peas in a pod. He was a helicopter crew chief, and I was a truck driver. So we had land and air."
The couple eventually retired from the armed forces and bought a house on Route 72, a home that Weber still lives in until this very day. They also bought a bigger piece of property that was adjacent to their existing one, which totaled 36 acres. The two, who were never officially married, did have a civil union.
Aside from owning a business together, they also loved nature and personally understood all the difficulties and hardships that many veterans have to deal with during their years in service.
Sadly, Poissant got bladder cancer and passed away at the young age of 56 around four years prior, leaving Weber behind. But when that happened, Weber decided to do the unthinkable. In order to pay tribute and to honor his 30-year relationship with Poissant, he did something incredibly close to both their hearts.
Weber chose to donate their incredible 36-acres of rural land that borders the Pinelands National Reserve in New Jersey to benefit veterans just like them. The plan is to build a rehabilitation center or retreat home for veterans dealing with mental illness and addiction. They also chose to name the place 'Jeff's Camp.'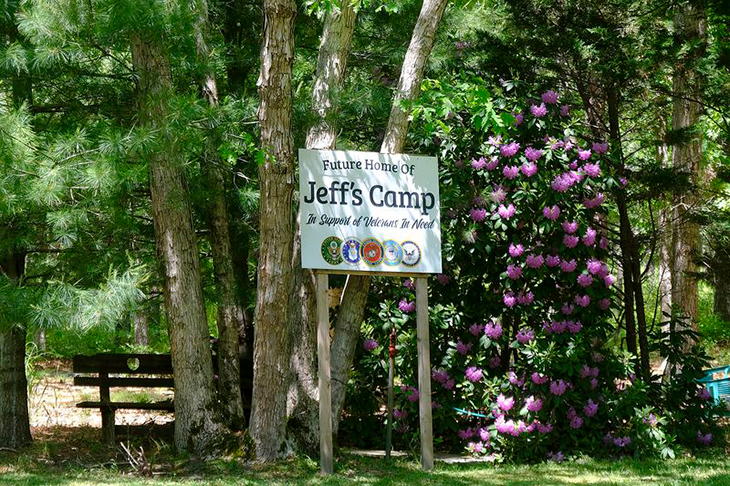 While the act of donating all that land was already heroic in itself,  what makes it even more generous and unbelievable is the fact that Weber was offered a whopping $3 million for the property, an amount that he refused to accept because he wanted to donate the land instead.
Apparently, the couple had always planned to use their Ocean County Ponderosa to assist veterans. And despite Poissant's death, Weber knew that he needed to fulfill their dream. While they were coming up with their plan, they had a few other ideas for the property.
Weber explained, "We thought about a cemetery for the vets. But this is going to keep them alive." This is when former veteran and friend of theirs, Keith Petterson, recommended that the couple look into something aimed at the local homeless outreach organization that was hoping to build a place for homeless vets. They spoke with Paul Hulse, the director of Just Believe Inc. and Tom River of Code Blue Warming Shelter at Riverwood Park.
Petterson shared, "They made a phone call, and this is what happened."
The plan for Jeff's Camp is to have an 8,000-square foot building along Route 72. The facility would be divided into a treatment facility run by healthcare provider New Life Addiction Services, as well as a thrift store handled by Just Believe. The residence will not only provide permanent residence for vets, but treatment, rehabilitation and vocational training for those wanting to get help.
Also, the setting of the facility in the woods is meant to be therapeutic. Hulse explained, "There will be hiking trails where they can walk the property. It's a retreat – 'Jeff's Camp' – so we don't want to take away the land, we want to preserve it."
The project is estimated to cost around $2.5 million to build, an amount they will attempt to get from grants and private contributions.
Hulse also shared that, "While (New Life) is working with them on the medical side, we can work on the rehabilitative/vocation side, getting them back into society, touching people, getting back into that public eye, and getting people what they need. That's what the store is going to do."
On May 27, in an impromptu ceremony, the letter of intent to deed over the land was signed by Weber in order to begin the construction of the center. Even New Jersey Congressman Andy Kim made it to the event.
Kim commented, "If there was an issue that tries to unite our country it would be about supporting our veterans. So this is something where it should be all hands on deck. It should be a no-brainer to everybody."
What are your thoughts? Please comment below and share this news!
True Activist / Report a typo