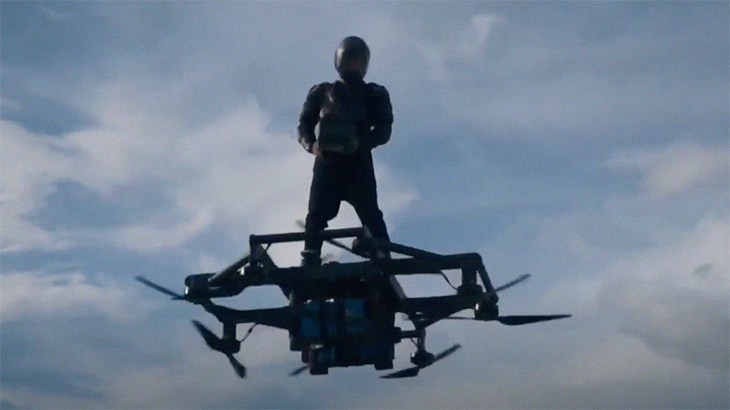 In an epic flight that took just seven minutes and twenty-two seconds, 40-year old Filipino inventor, Kyxz Mendiola, managed to break the Guinness Book of World Records for farthest hoverboard flight last July 10.
Using a personal aircraft named the Koncepto Milenya, Mendiola flew his hoverboard a distance of 2.89 kilometers, or 1.79 miles, over a beach in the province of Zambales in the Philippines. Mendiola also happens to be a drone and flying car enthusiast, and the footage taken shows him gliding 30-feet above the ground as he made his way over the beach and even some fishing boats floating by on the water below.
Notably, the former Guinness World record belonged to Franky Zapata, a Frenchman that had set the record back in 2016 with a jet-powered hoverboard that managed to travel 2.25 kilometers, which is approximately 1.39 miles.
Aside for Mendiola's enthusiasm for all things flying, the inventor also happens to be a professional hip-hop dancer. He shared, "Our flight data indicated that we actually achieved 2.89 kilometers. I could not believe it. It was more than what we were expecting."
"Our original goal was to fly across 2.5 kilometers. It was so overwhelming and I could not believe that it will go that far," he added.
Although it has yet to be officially recognized and announced by the Guinness Book of World Records at the moment, the flight has been submitted by Mendiola's team's for further review and validation.
Aside from developing the electric flying hoverboard (e-Hoverboard) with Star 8 Green Technology Corporation, Mendiola is currently working on a prototype for a flying car, which is set to be named Electric Manned Aerial Vehicle (EMAV). If it passes the safety and standards test of the country, it will be the Philippines' first flying car ever.
When asked about what he has to say of his accomplishment, he said, "My message to the young generation is don't let other people stop you from achieving your dreams."
See his record-breaking flight in the video below.
What are your thoughts? Please comment below and share this news!
True Activist / Report a typo