You've all heard the saying "Home is where the heart is" right? Well, for one particular couple, this statement rang particularly true! Much like everyone else around the world in the midst of a global pandemic, this husband and wife were pushed to their limits, forced to make some huge changes to what many would consider a tiny home.
Jaimie and Dave happened to be a couple living in Cowlitz County, Washington, when they decided to make a drastic decision. Rather than continue to live in debt, as well as find a way to survive the flailing economic downfall, they decided leave their mortgage behind and build their own tiny home using non-other than a couple of shipping containers.
While the tiny house community has gained popularity over the past few years, it seems that it makes even more sense now in the season of Covid-19. While people are continuously losing their jobs and eating into their savings, finding ways to pay their monthly amortization has become even harder, adding stress to an already horrific situation.
Rather than become another statistic, like many other couples that have suffered at the hands of this horrific disease, Jaimie and Dave decided to change their situation by building a new home, from scratch.
The couple purchased a small piece of land where they felt they could make their tiny dream home come true, thus beginning their journey to their #shippingcontainerhome. They bought two shipping containers, one measuring 20 feet and the other 40 feet. Jaimie shared, "…We thought, how hard is it to stick a couple of containers together? It's like Legos, right?"
Considering that the home was going to be completely DIY, it was incredibly helpful that Dave was well versed in metal work. The couple managed to do everything themselves, from putting the structure together, to doing electrical wiring, to the plumbing, and welding, they did it all.
And while that is already impressive, the fact that all the construction and work and fittings cost them around $80,000 in total is even more remarkable. Even if the place is considerably small, the fact that they did it completely by themselves means they saved themselves a ton in labor costs.
Although the home is situated in a more remote area, it still isn't completely off-grid. This meant that they needed to go through all the proper processes to get their building permits. Thankfully, not only did they receive them in record time, their community was more than ready to support them in any way they could, even though their home wasn't going to look like the usual ones in their area.
Incredibly, Jaimie and Dave used their weekends from Friday to Sunday to work on their home, while they worked their usual jobs from Monday to Thursday throughout the week. It took them 10 months to complete their home, and that time also included a rather scary medical emergency. As if building a DIY house all by themselves in the middle of a pandemic wasn't hard enough, Dave had a spontaneous intra-cranial hemorrhage – simply known as a brain bleed, in the middle of it all.
According to Jaimie, she had just gotten home when she saw Dave halfway up the driveway. She explains, "I could tell by the way his face was that he'd had a stroke or a seizure or something." Although it took some time, thankfully Dave managed to recover from his medical problems. In fact, he even utilized their home construction as a part of his recovery by using it for his rehabilitation for his complicated condition.
By the time the couple moved into their tiny new home, it looked nothing like it did in the beginning, and way more stunning that anyone may have imagined.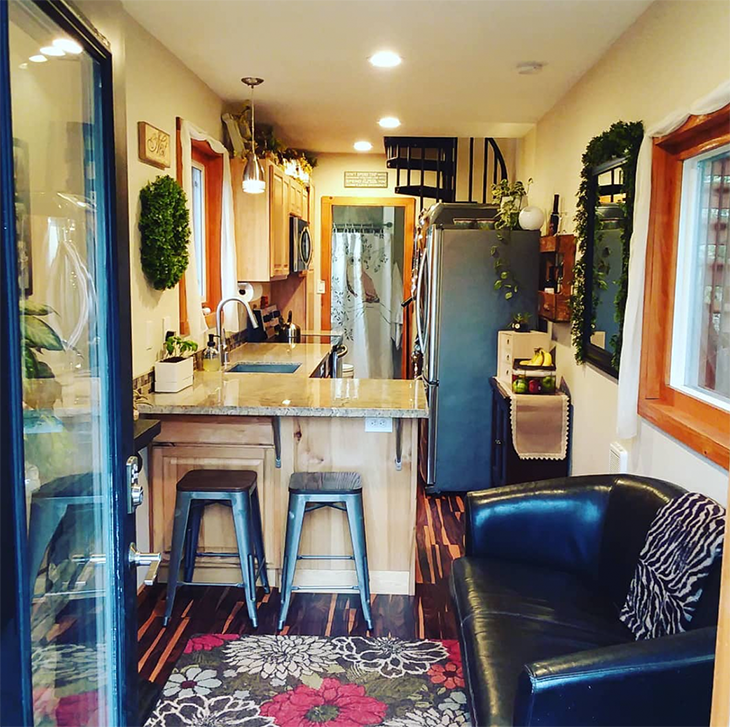 Gone was the plain containers that they had put together like building blocks, but in its place stood a gorgeous orange home with adorable details in every corner. While the upstairs bedroom was fitted with an open patio with a spectacular view, the downstairs had a lounge, kitchen, bathroom, pantry and everything else they needed to live a comfortable life. Plus the fact that they were in the middle of a beautiful forest made it their very own piece of heaven.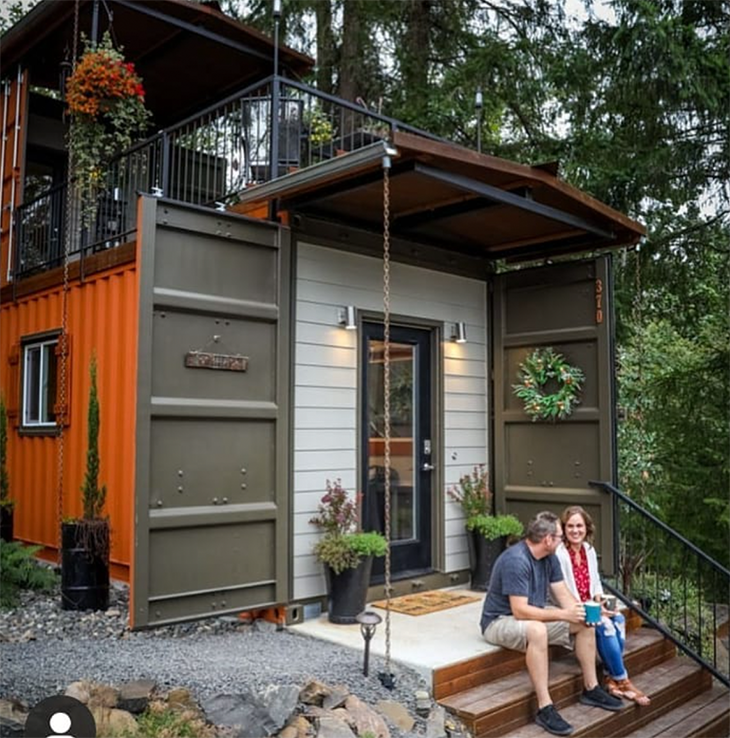 In the end, the couple came to realize that it wasn't just a gorgeous home that they had built together, Jaimie said, "I think what this has taught us about ourselves is that we can do things that are really, really hard that, if we do them together, we can definitely accomplish it."
Soon after they moved into their new home, they fixed up the garden and even built a workshop. But according to them, they don't think they're quite done. Eventually, they hope to connect the home to their workshop via a suspension bridge, and add in a zip line too!
For now, Jaimie is just happy, content and feeling very blessed with her new home.
She shared in one of her Instagram posts, "I never dreamed of living in a tiny house and certainly not a house made from a shipping container. What I did dream of was a simpler life, a fuller life, a life where I wasn't always chasing the unattainable. God gave me all of that and more! We may live in a tiny orange metal box, but out life is anything but small. Dreams do come true."
If you want to see more, visit their IG page to see posts of their tiny yet very lovely home.
What are your thoughts? Please comment below and share this news!
True Activist / Report a typo