A British watercolor artist who goes by the name 'Shitty Watercolour' on Facebook has become a world-wide phenomenon. Hailing from the UK, Hector Janse van Rensburg made a watercolor series of a boy and his cat that seriously everyone can benefit from. While the boy is a tad bit self-deprecating, much like the artist himself, his cat, on the other hand, gives simple yet brilliant advice.
When asked by a staff member of the publication Bored Panda about this particular series, Hector shared, "The comics that came before this series was less optimistic, and this series is ab it like a response to that. They sometimes approach difficult issues like mental health, but the aim of the comics is not to solve the issues but to show a different perspective on them."
"That new perspective often comes from the cat, who is based on my cat Ona who passed away a few years ago," he added.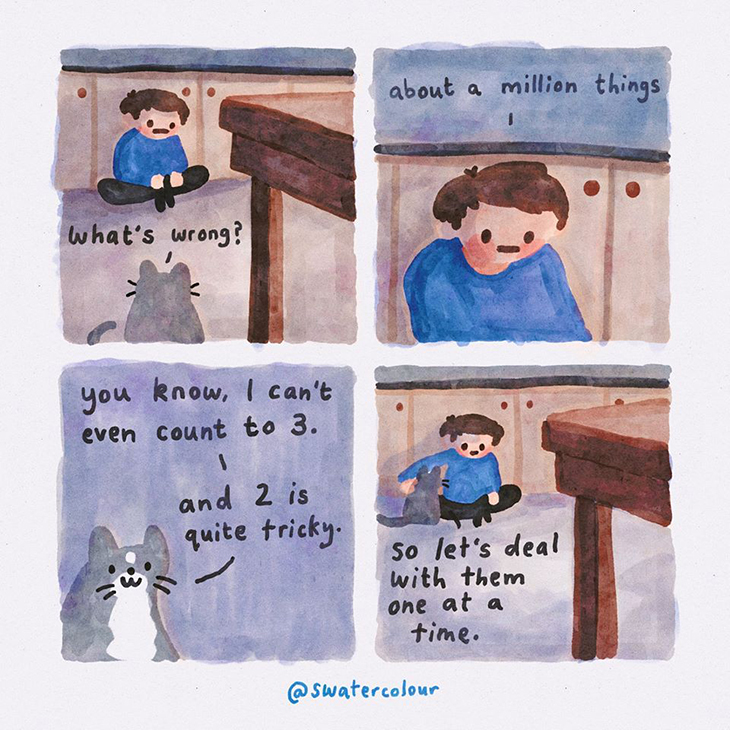 Hector also explained, "Before I started painting online about 8 years ago, I had never had any interest in art and now it looks like that's where my life is going. Ostensibly, that just means I'm sitting at my desk with a brush more often than a keyboard, but it is a whole different type of challenge to think of things about human nature that I want to communicate in my paintings."
He also said, "One part of that is that it's like I'm living through my art, which can be difficult." But what he might not have realized either is how much his "happy little wobbly blobs of color" have managed to help hundreds of people because they can easily relate.
When asked how the artist stayed so passionate about his work, he was quick to say that the word passion isn't really the right word to describe it. According to Hector, "I think if you rely on some feeling of passion to motivate you then you will have a hard time. I've been doing a comic every day recently and I tend to wake up, think of an idea, and then have it painted by lunchtime," explaining his rigid schedule.
Hector also said, "The schedule around my painting process is quite robotic by now, and I think doing it that way opens up a clear space where you can be more creatively free. If I didn't have a schedule and instead waited around for inspiration that was good enough to motivate me to paint, then I probably wouldn't be as productive."
According to the watercolorist, most of his ideas for his adorable comics come from negative thoughts which he turns around to make into positive ones.
He shared, "So I think about the ways in which people can feel bad and how you might approach them as a friend would. I don't think I find it too difficult to think of ideas which is probably a testament to how nice my cat was." In fact, it's obvious that his beloved but sadly deceased cat Ona was true and genuine inspiration for this highly encouraging series.
When asked what type of advice Hector would suggest to artists that are also working with watercolor as their medium, he said that it truly depends on the end-goal of the artist. In his opinion, he believes that there are two paths that these potential artists could take.
He said, "For me, it's that the niceness and technical ability of a painting are different things and you can aim at either."
He continued, "It's perfectly possible to make happy little wobbly blobs of color and people will enjoy them if the message is good and sincere. There's probably a boundary and neatness that you should stay within but messiness is cool too. Also, most of my pictures look very bad at first, and then it's only after a while that they come together. I think that's because a few wobbly blobs on their own look like an accident, but a finished painting of wobbly blobs looks purposeful."
Impressively, Hector has a degree in Philosophy, Politics and Economics from the University of New York, but he has been doing water coloring since December 2011. He also revealed that he went back to an old watercolor set at time when he felt bored and depressed. He first showed his artwork on Reddit back in 2012, but eventually he moved on to bigger social media sites like Tumblr and Twitter.
Hector also shared that a lot of his inspiration hails from Sir Quentin Blake, the illustrator for all the books of the one and only Roald Dahl. In case Hector's paintings remind you of the work on such books as Matilda, James and the Giant Peach or Charlie and the Chocolate Factory, that's precisely why.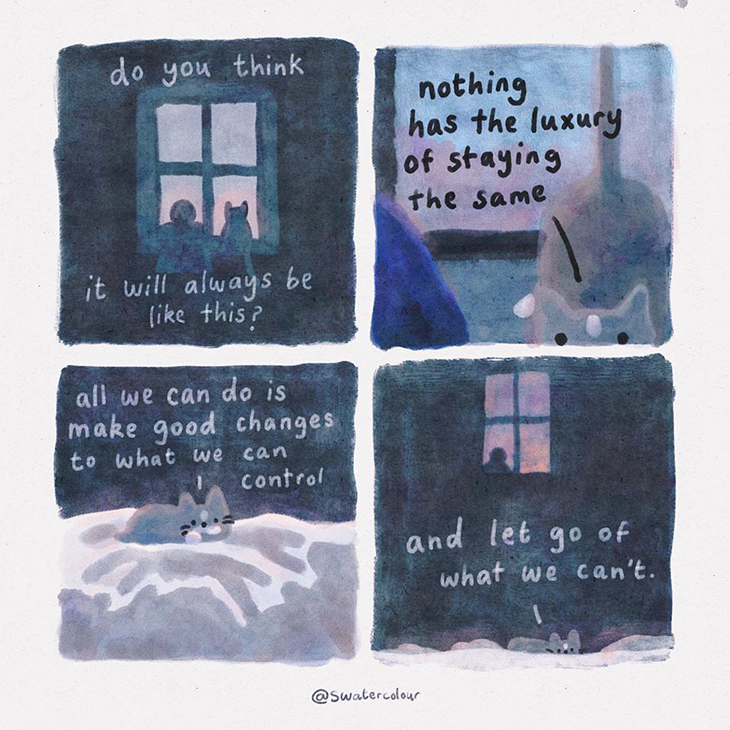 Whether Hector knew that his work was going to garner such amazing feedback from netizens for such simple yet profound advice, he didn't say. But considering he sees the reactions, comments and shares he has received for his work, then it should no longer come as a surprise.
If you want to see more of Hector's work, and honestly, are searching for some very uncomplicated yet brilliant advice, take a look at his Facebook page here.
What are your thoughts? Please comment below and share this news!
True Activist / Report a typo