It's been said that within weakness and vulnerability, lies beauty – but more often than not, inequality just brings people sorrow. Domestic violence is a worldwide problem that up until just recently, has been unspoken about and taboo.
An artist in Turkey felt this tragedy to be a heartbreaking and important matter that he wanted to spread awareness to his countrymen by beautifully commemorating all those that became victims of this criminal act, so justice can be served to them even through a different medium. 440 pairs of women's heels were displayed and hung up on an exterior wall of a building in Istanbul, Turkey for all those that fell victim to domestic violence.
Women from all over the world have experienced violence in their own homes, by people who are closest to them – in fact this is one of the most common reasons of violent deaths in women.
40% of women in Turkey have suffered from cases of domestic violence, with some having tragic endings that can never be changed. To bring awareness to this recurring problem, local artist and graphic designer Vahit Tuna came up with a monumental idea that would attract the interest of the Turkish people.
440 women in the country were murdered by their own husbands just in last year, hence the same numbers of shoes in display to commemorate each of these women that has recently passed.
Tuna said that his inspiration to create something as a protest to this came from all the messages and posts he saw about the growing problem through social media. He then noticed that these stories would disappear as quickly as they were presented to the public eye, that he realized he needed to make a reminder about it so that people could take more notice and action.
The artist chose to use high heels, and not any other type of shoes as his medium of art to represent the symbol of feminine power and independence he wishes all the women in this world to have. These high heels did not belong to the slain victims, but are a cultural gesture for their representation. He feels that these heels show an aesthetically direct message to femininity.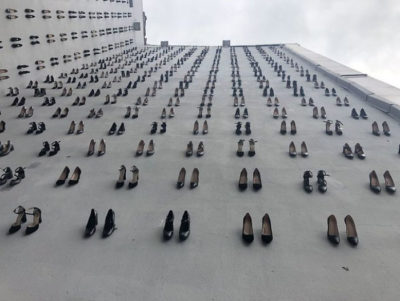 He also feels that these shoes are a symbol of women having been employed, which represents independence from their partners.
In some Turkish regions, it is often tradition to display a person's shoes outside their homes when they pass. It becomes a symbol of mourning.
Tuna believes that having knowledge is power and therefore he feels it is important for everybody to be aware of the problem, in order to solve it as an individual. Every person has to do their part to create a movement from within and change the system. Tuna's other projects also concentrate and represent socio-economic issues his country is struggling to solve.
This art installation is found in the center of Istanbul and will be on public display until March 2020.
What are your thoughts? Please comment below and share this news!
True Activist / Report a typo