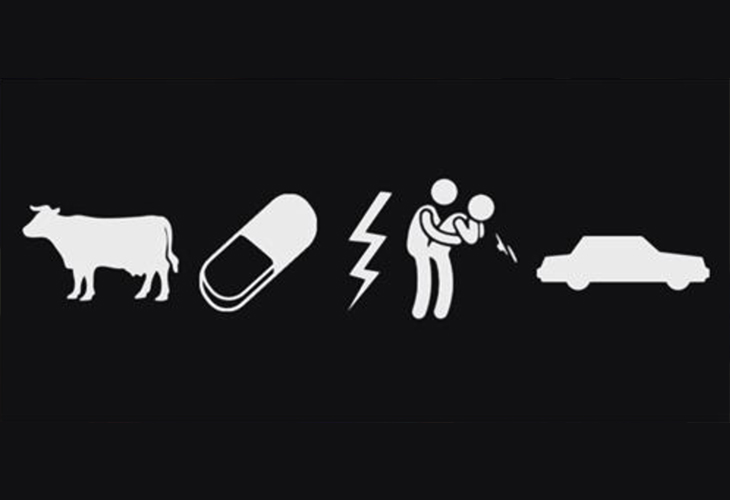 "I am not terrified of the terrorists; i.e., I am not, myself, terrorized. Rather, I am terrified of the terrorized; terrified of the bovine masses who are so easily manipulated by terrorists, governments, and the terror-amplifying media into allowing our country to slip toward totalitarianism and total war." – Dan Sanchez
By: Carey Wedler / ANTIMEDIA   Guided by talking heads, American armchair warriors spout vitriol, increasingly calling to either treat Muslims like Jews in the Third Reich or simply bomb them into oblivion — and their cognitive dissonance is glaring. These contradictions are evident not least in the paralyzing fear so many 'Mericans feel toward Muslims who courageously call for soldiers to do their bidding in the Middle East. Their crippling fear of Islamic terror, itself, is cloaked in contradiction.
According to an analysis by the New America Foundation, Islamic terror attacks in the United States have led to the deaths of 45 people since 9/11. While 45 deaths is 45 too many, the dizzying fear of Islamic extremism currently sweeping the nation is objectively overblown.
Considering Islamic terror killing an average of 3.2 Americans per year (45 deaths divided by 14 years) since late 2001, here are ten causes of death more worthy of their fear:
Other notable risks of death greater than an Islamic terror attack include scalding tap water, which kills 100 American per year; bad medical care, estimated to be responsible for at least 100,000 deaths in the U.S. annually; and hypothermia, which kills 1,340 Americans per year. Oh, and don't forget Christmas trees. Fires caused by Christmas trees kill roughly ten people every year. Are Christmas trees conspiring with their lights to traitorously wage war on Christians via suicidal self-combustion?
While the Washington Post has previously cautioned against making comparisons between events that inherently cause death (for example, a terror attack) and events that may cause death (like driving a car or riding in an elevator), it remains that being caught in the throes of a terror attack is just as coincidental a fate as choking — or rather, less coincidental, based on the data. One could die from a terror attack at an office building, but they could also die from an elevator accident in the same location.
Either way, many of the most pervasive forms of death — like heart attacks, cancer, and painkiller overdoses — are preventable, at least in part, through lifestyle choices. If Americans were as passionate about ending these killers as they are about battling ostensible Islamic terror, millions of lives might be saved.
If Americans' fear of death were rooted in data and objectivity, they might drop their calls to ban Muslims. The recent rash of attacks against peaceful Muslims might wane. Eighty-three percent of registered voters might not fear an inevitable terror attack. A majority of Americans might not call for further military escapades in the Middle East, which will most assuredly kill countless innocent civilians — all so the 'free and the brave' can do their Christmas shopping sans an irrational fear of being blown up at the mall (though previous invasions have done little to quell that panic).
Rather, Americans might consider changing many elements of their everyday lives. They might alter their diets to reduce heart attacks, tackle their addictions to pharmaceuticals, remove their televisions from their homes, and, er, avoid the dangerous bovine masses they have come to resemble so closely.
What are your thoughts? Please comment below and share this news!
---
This article (10 Things More Likely To Kill You Than Islamic Terror) by Carey Wedler is free and open source. You have permission to republish this article under a Creative Commons license with attribution to ANTIMEDIA.